Sorry it's been so long since I've updated the blog! Between ReaperCon, non-miniature things, and the holiday season, I just haven't had the chance. But today I find myself stuck at the airport, with a delayed flight, and it seemed like a perfect opportunity to update the ol' blog. Rest assured, I have much more new material planned for January.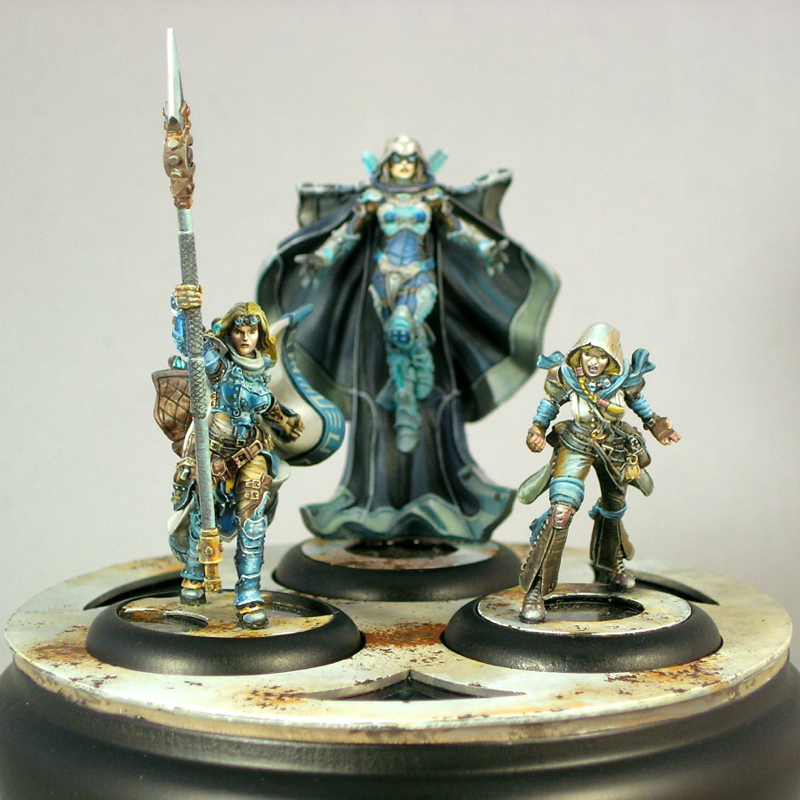 Those of you who have seen my work probably know I've long been a fan of Privateer Press' games and miniatures, especially Cygnar, which was my first faction. So when I saw the epic time-traveling version of Victoria Haley, I was instantly sold. It's a great new spin on a classic, iconic Cygnaran leader.
For my take on this classic, I decided to go for a much sketchier and more painterly style than my usual. After painting miniatures for two decades, this was a pretty radical change of style for me, but sometimes that's the best way to grow.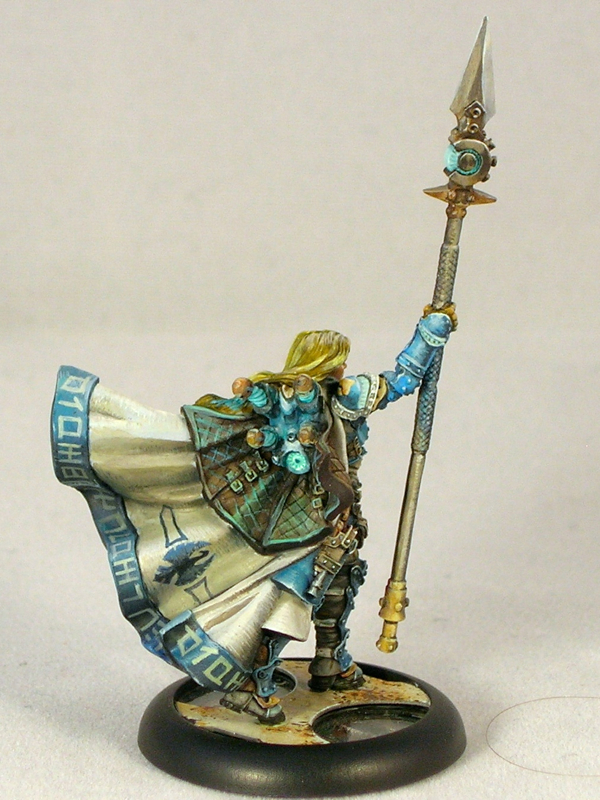 I think using this sketchier style helped me push a lot of things, and in some ways this group of miniatures was a breakthrough for me. I think I took some big steps forward in my ability to sell the appearance of metal with non-metallic paints (nmm) through contrast and highlight placement alone, without smooth blends. I think it was also a big step forwards in my use of color, subtle gradations of warm and cold tones that add complexity, interest, and realism, especially in the whites.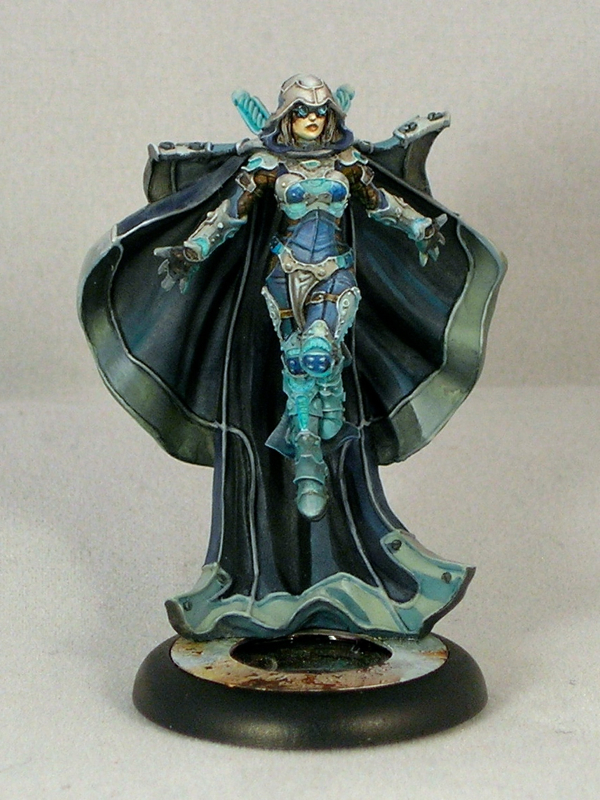 In the end, however, it was not entirely successful. The end result is just too rough, and I should have taken more time to clean things up and smooth them out. (Compare how future Haley looks in the group shot, where she's slightly out of focus, to how she looks here.) This was fairly quick work by my standards, less than 10 hours per character I estimate. I entered them in the Privateer Press competition at Gen Con, and ended up with a disappointing silver.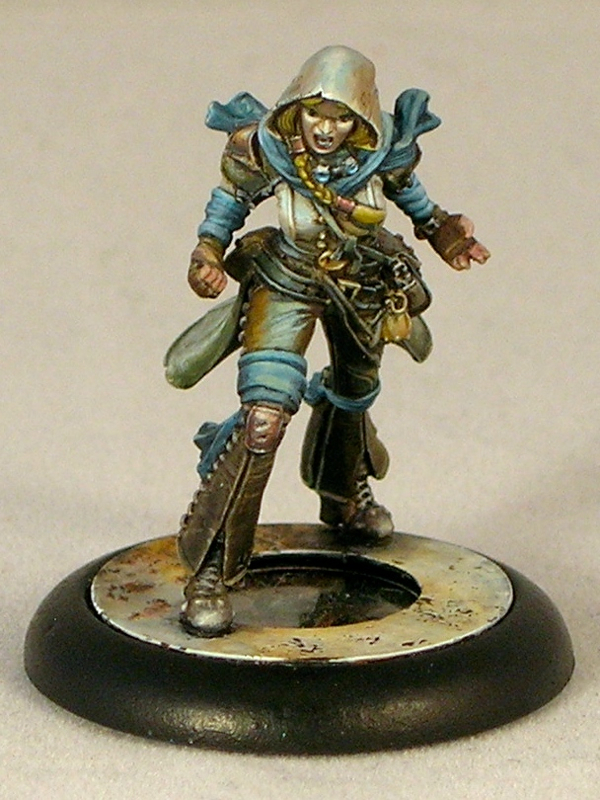 Past Haley ended up being my favorite of the three to paint. I love her facial expression, screaming in rage and defiance. Getting the tiny bits of nmm, like the goggles and hair cuffs, to look metallic was a challenge, but I think I managed to pull it off.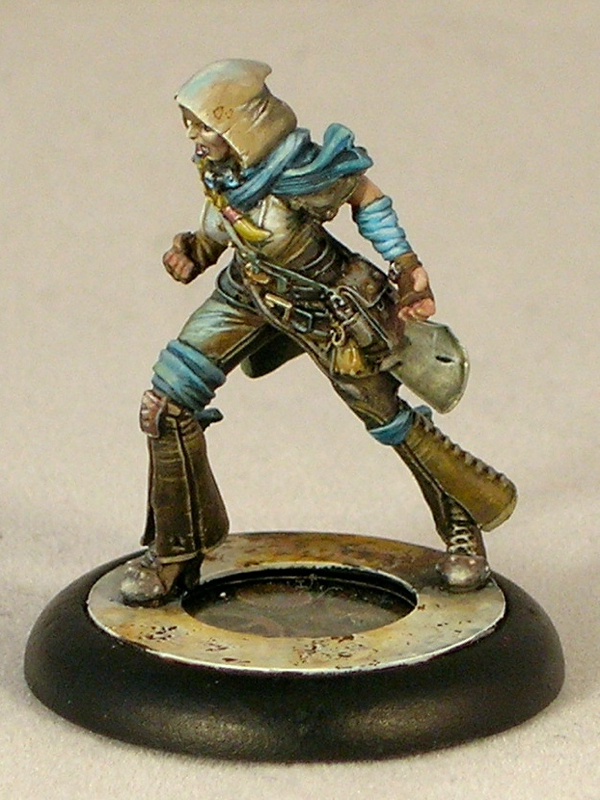 In the end, this group was a great learning experience, and it was great to push myself in a new direction, even if it didn't entirely succeed. I think I can take what I learned about from painting this group, but blend it more with my usual, cleaner, smoother style, and end up a much better painter as a result.