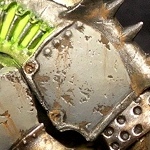 We all love tabletop wargames, and our miniatures often see many battles. As hobbyists, we want our miniatures to look it! Well-done battle damage effects can make miniatures look more realistic on the battlefield, and also more fun to look at. In this tutorial, I will demonstrate a couple different techniques for giving your models that battle-hardened appearance. The miniature I've chosen to demonstrate them on is a Deathripper, a Cryxian bonejack from Privateer Press.
Realistic Chipped Paint
The first technique I'm going to demonstrate is called the blister-foam technique. Its purpose is to give the appearance of chipped paint. A warrior or war machine in the field is going to be scraping against the terrain and other combatants, not to mention getting pelted with gunfire and hacked with melee weapons, and its paint will not remain intact long. That is the effect this technique will achieve.
You will need a small piece of foam, like the "blister-foam" that comes packaged with most miniatures.