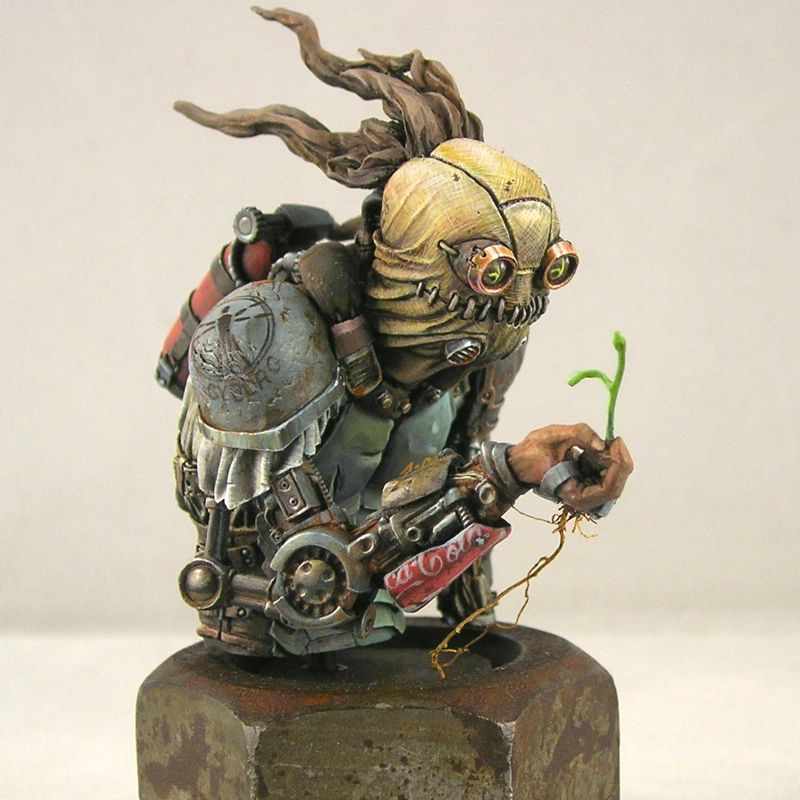 IPIK had never been so far from his home. Food was getting harder and harder to find, even though only a handful of survivors of The Fall were still around scavenging. In the century since civilization collapsed, every home, grocer, or other potential stockpile of sustenance had been picked clean. The elders claimed that once upon a time, food grew by itself, but IPIK had never witnessed this. It sounded like a myth. But now there was a small green strand poking through the sand. What could it be?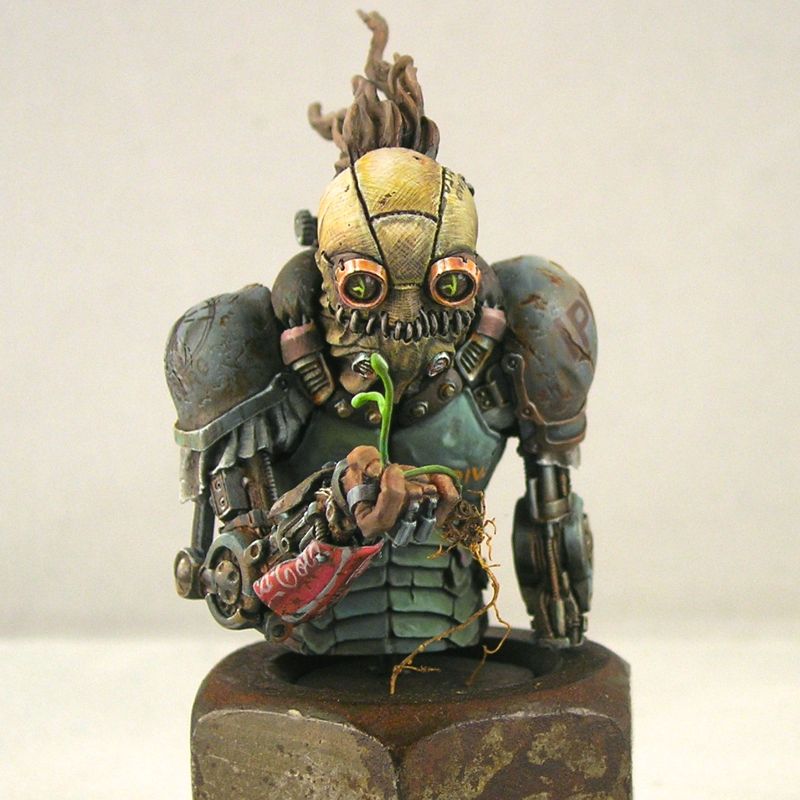 Wow, it's been a long time since I've posted on the blog. Sorry about that! I went a little convention crazy this year with Crystal Brush, Kublacon, World Expo, Gen Con, and Reapercon. I've been so busy working on my entries for the various competitions (and, y'know, life) that I haven't had much time to write about minis.
Now that I've finished all but one of my competitions of the year, I wanted to take some time to update the blog. First up is my main entry from Gen Con this year, Patrick Masson's "Barney the Steamthing" bust.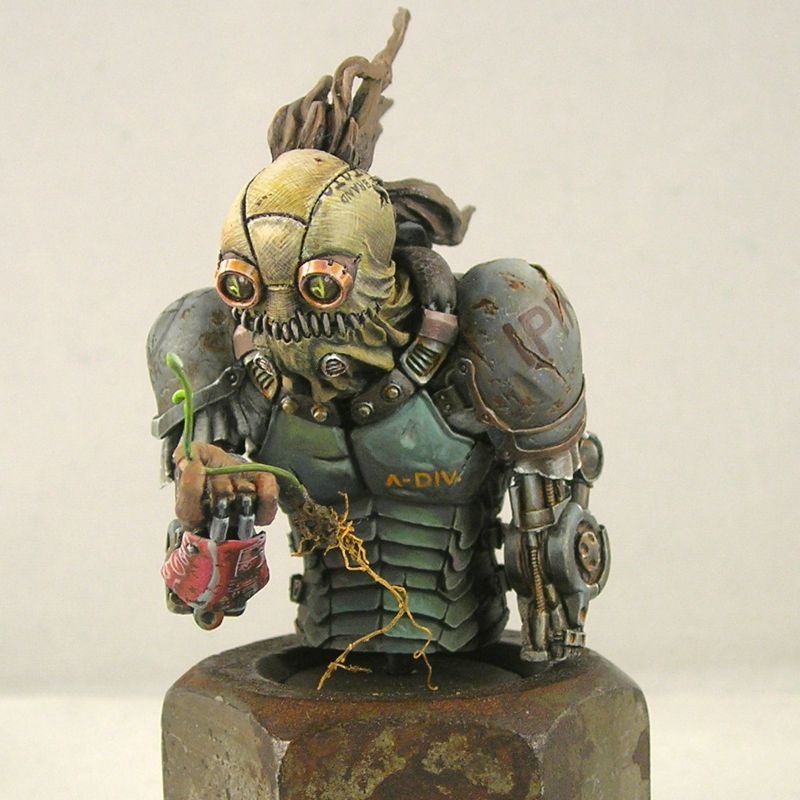 I have been wanting to paint this bust ever since I first saw it on CoolMiniOrNot way back in 2009. However, the sculptor, Patrick Masson, said at the time that it couldn't be cast. "Don't think there is a chance to make a cast. Unfortunately there are a lot of uncastable areas. I should change too much things. The next one will be." So I was very happy when I came across it recently in Patrick's Putty & Paint gallery, here, and saw that casts are available. You just have to contact him through his website, Artik Toys.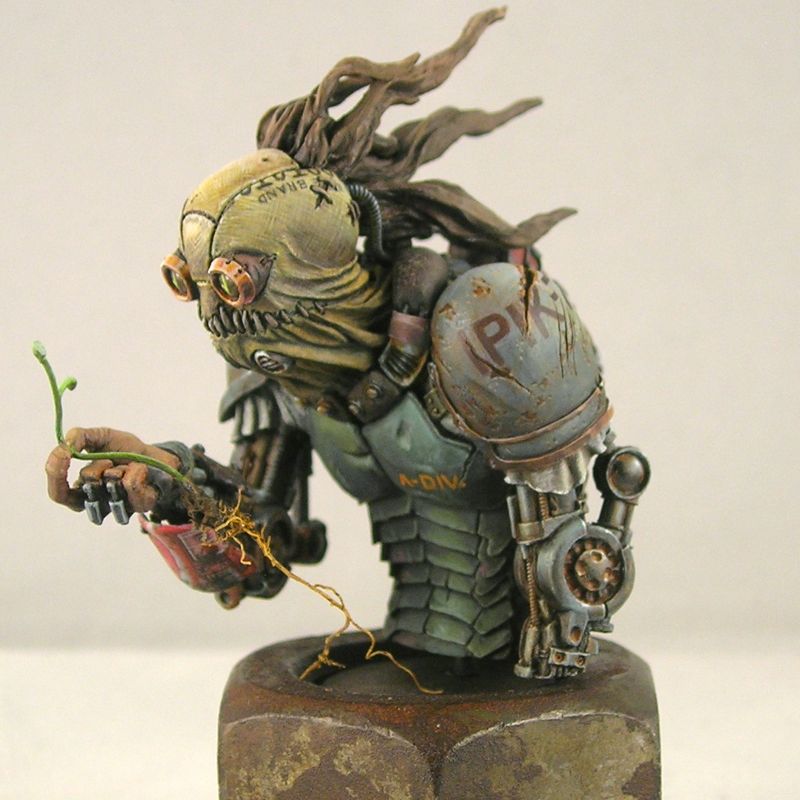 I posted some early WIP photos in April; at the time he was all black in white as I started painting the bust in Matt DiPietro's "sketch" class using the value sketch technique he teaches in the class. This mini continues to show the influence of the classes I've been taking, especially Alfonso Giraldes and Kirill Kanaev, along with Matt. It definitely borrows from Alfonso's "fuck smoothness" approach and Kirill's teachings on textures. As Alfonso correctly points out, most of the objects we encounter in our lives do not appear as smooth color transitions, but rather as textures of one kind or another.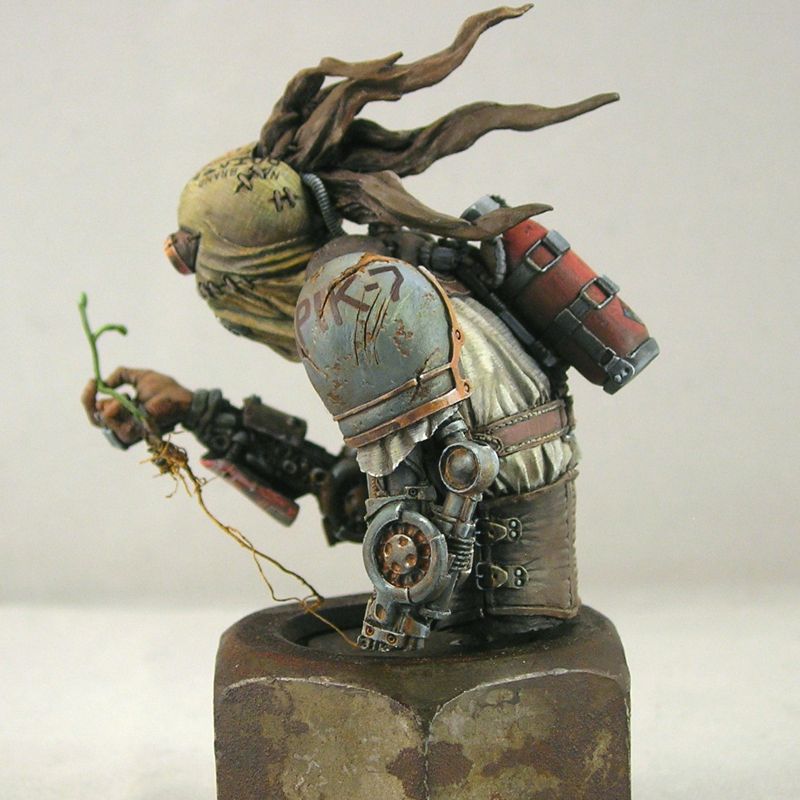 In total, I painted fifteen different textures on different areas of IPIK. There's the woven burlap of his head, the shiny metal of his eyes, the corroded metal of his arms, the dirt-covered but still shiny coke can, the chipped paint of his shoulders, the cracked leather straps supporting his backpacks, and so on. Try to spot all fifteen!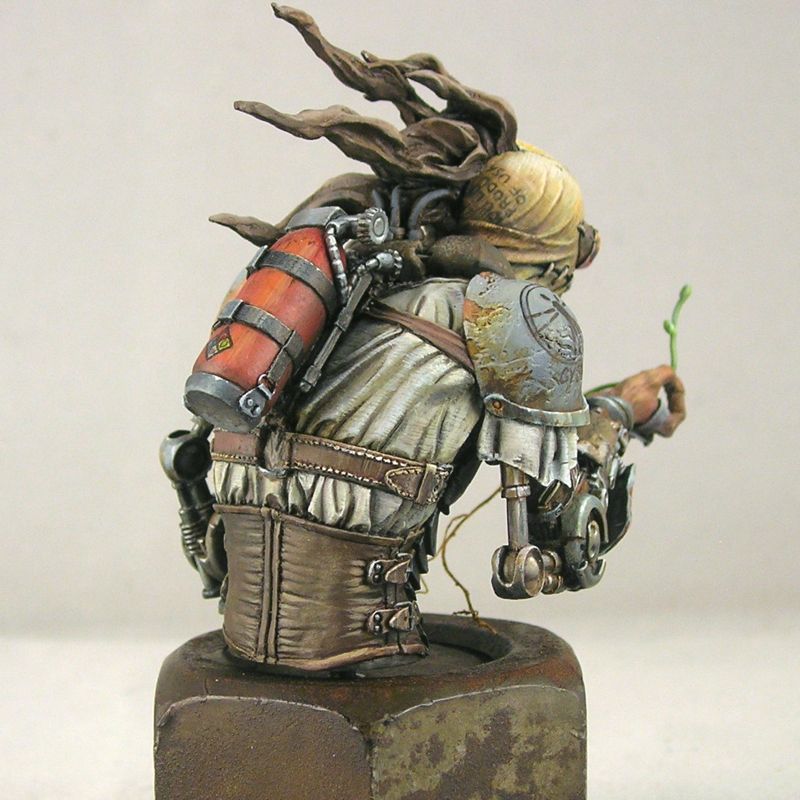 In addition to the textures, I also had a lot of fun with the various freehands all around, especially the repurposed materials. As a post-apocalyptic scrounger, IPIK is all about recycling. His head covering is made from burlap potato sacks. If you look closely, you can make out the texts: "NAME BRAND POTATOES" and "100 LBS PRODUCT OF USA." The oxygen bottle on his back even has the correct NFPA 704 warning symbol for oxygen. My absolute favorite bit of IPIK is the coke can. Painting a scavenger who repurposes everyday objects opens up a lot of opportunities, and few everyday objects are more iconic than the coke can.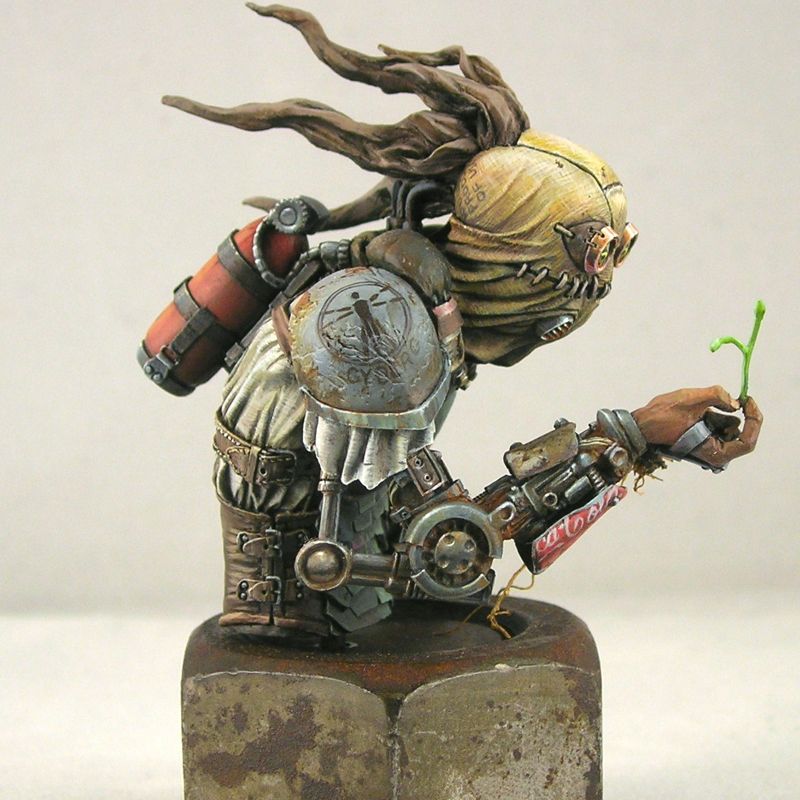 Figures tend to be about character, and this is especially true for busts. This can make painting figures with helmets, masks, or other head coverings a bit tricky. Patrick (and his brother Thierry who did the concept) did a really good job on Steamthing's face, putting a lot of life and expression into what is really just some stitched-together fabric, but it still poses a bit of a challenge for the painter. One of the ways I addressed this was putting the reflection of the plant in IPIK's eyes. It's a bit of a cheat—from most angles, the reflection of the plant would not be visible. But as soon as I saw the effect in the first sketch I did, I knew it was the right thing to do.