Infinity miniatures have come a long way since their first releases. For the last couple of years, they are doing all digital sculpts, which is perfect for sci-fi figures with their machined power-armor and gadgets. Their line is 100% metal, and are among the nicest metal casts I have worked with.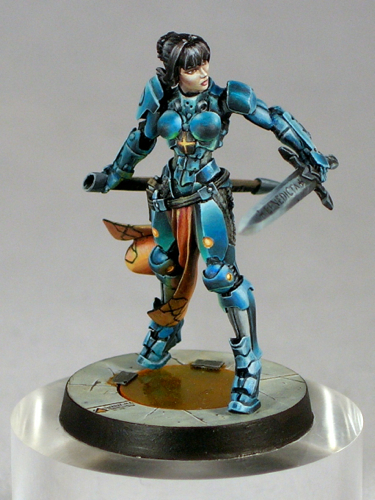 For this miniature, I was inspired by the beautifully smooth non-metallic metals on the version by Gareth "glazed over" Nicholas. The resemblance is quite apparent, although my blends are not nearly as smooth. I just don't have the patience for that much glazing. I'm pretty happy with the effect I was able to get.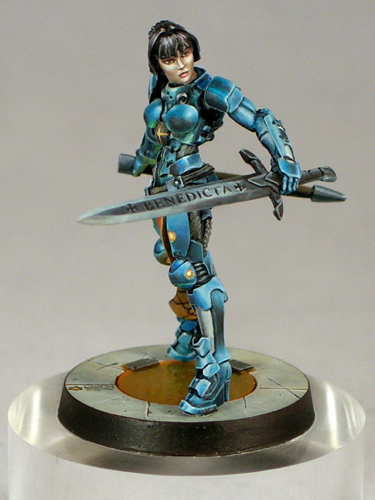 Although I stayed quite close to Gareth's version for the metals, for everything else I decided to go my own way. I painted this while I was still working on Desert Wanderer, and decided to go with the same color scheme and Islamic-inspired freehand, since it worked so well for Wanderer. Because of the Islamic freehand, I ended up entering Jeanne along with Wanderer in the Rainbow Brush competition, but when Wanderer won, she was out of the running. Yes, I did end up entering two figures named after Christian saints in an Islam-themed painting competition. Irony is ironic that way.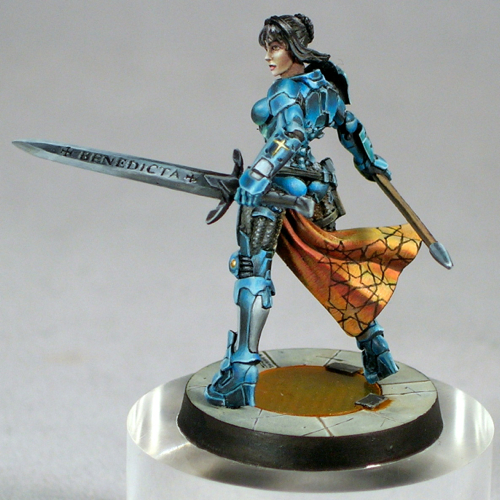 The fine texture of the cloth came out really well I think. I like to contrast different textures in my miniatures, in this case the weave of the fabric against the smooth metal of the armor.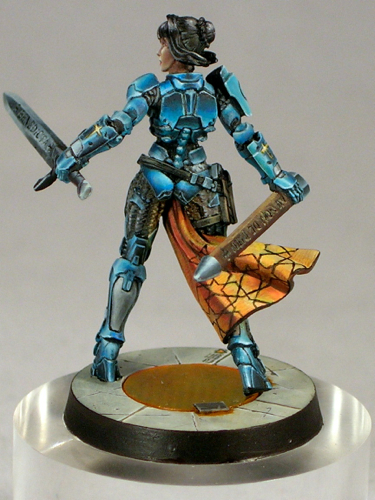 I'm a big sucker for reflected light, and love including it in my figures. Non-metallic metals are a great opportunity for this, especially when the metal surface is right next to a brightly colored element, as is the case with Jeanne's loin cloth. You can see it in this view on the silver woven metals, and in other views on the blue armor plates. In most places you see just the color, but on the flat plates immediately adjacent to the loin cloth you can also see the shape of the fabric in the reflection.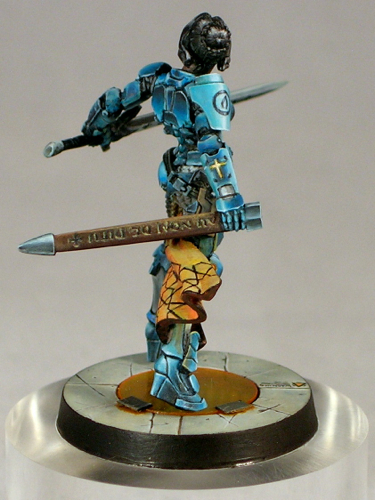 I had a lot of fun with the base. I often like simple bases for my miniatures, especially gaming figures, but which are evocative enough to provide a setting for the figure. To make this base, I used a standard Infinity gaming base, but cut a big hole in the middle of it, which I replaced with a brass-etch grating and a clear piece of blister pack that I painted with transparent orange ink. I really enjoy using negative space when basing miniatures.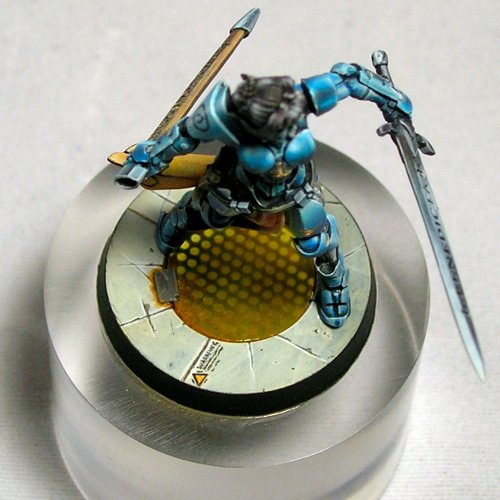 I used a clear acrylic plinth from TAP Plastics to accentuate the negative space in the base.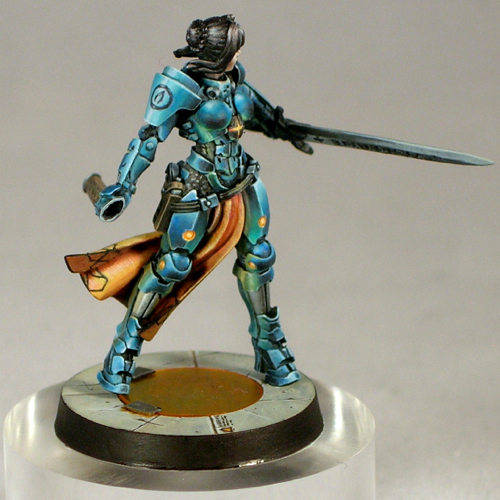 I frequently ignore the manufacturer awards at Gen Con, because I'm more interested in painting what I want to paint rather than maximizing my chances to win awards. This year I lucked out though, and when I went to enter the painting competition I found out that Infinity was supporting it with manufacturer awards.
I went down to the Infinity booth later on, and was seriously tempted to get Operation Red Veil. I think the sales guy was a bit miffed when I said I'd wait, "just in case" I won their manufacturer award (which included the game). He may have been astonished at my hubris, but I thought I had a pretty good shot at winning.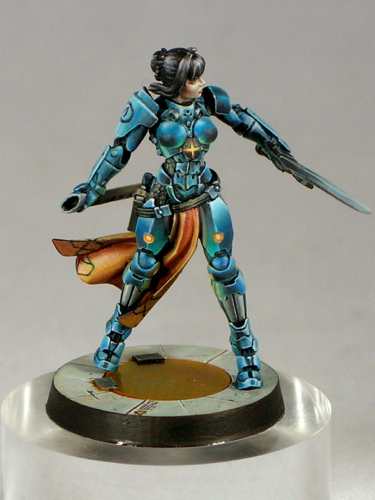 It turns out I was right to hold off, since I was awarded best Infinity figure with this model. 😉
Voting links, for those who want them: